TL;DR
General Magic ran a couple workshops with core team members from BrightDAO to reconfigure the Conviction Voting Parameters.
We would like to propose that we adjust the Conviction Voting app to use these Parameters:
Spending Limit: 4%
Minimum Conviction: 3%
Conviction Growth: 5 days
BrightDAO Parameters Revised
This is Part 1 of the results of Revisiting the BrightDAO Parameters with General Magic Support
The General Magic Team adjusted their work for the TEC to make this custom BrightDAO Configuration Dashboard. Which Adam, Phil, Bitsikka, CurlyBracketEffect, Ashraf, Serge and a few others who joined in used to take a deep dive into Tao Voting and Conviction Voting.
They worked together, especially with Adam and Phil, to conclude on this new set of Conviction Voting Parameters.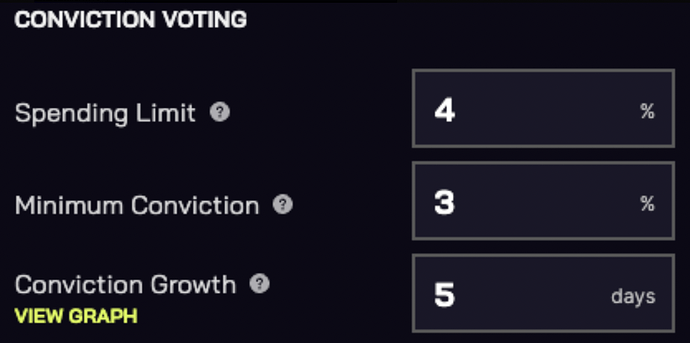 Conviction Voting Fundamental Strategy
Conviction Voting is the decision making process that controls which proposals get funded.
These params were chosen with the following in mind:
Conviction Growth
Spending Limit
Minimum Conviction
Simulated results with a 3 day voting period
In conclusion
After a few workshops and a couple weeks of debates analyzing the options, this set of Parameters was unanimously settled on as the best approach for the next 2- 6 months of BrightDAO. I would recommend revisiting again after 6 months to confirm that they still match the needs of the DAO.
h/t to Lauren from Giveth for her great forum post which was modified to fit this context, and the posts she wrote about Conviction Voting in the TEC's Forum